China downtakes import tariffs on some Asian Pacific Trade Agreement countries (extract aluminum part)
Abstract: [aluminum plus] extract tariff adjustment plan for aluminum.
The State Council Tariff Committee issued a notice in June 26th to reduce the import tariff of some Asia Pacific countries and publish the list of other tariff cuts.
The notice indicates that China will reduce the import tariff rate of soybeans from India to South Korea, Bangladesh, Laos and Sri Lanka from 3% to zero from July 1st. The list also includes chemicals, agricultural products, medical supplies, clothing, steel and aluminum products, which are subject to varying degrees of tariff rate reduction.
Prior to this, under the influence of the US tariff policy, China said it would impose a 25% tariff on imports of soybeans from the United States as a counterattack.
According to Wall Street, China is now importing soybeans from Brazil and Russia to diversify its soybean imports.
However, India, South Korea, Bangladesh, Laos and Sri Lanka are not the world's leading suppliers of soybeans, nor are they the main source countries of China's imports of soybeans.
The following is an extract of the tariff rate adjustment scheme for aluminum: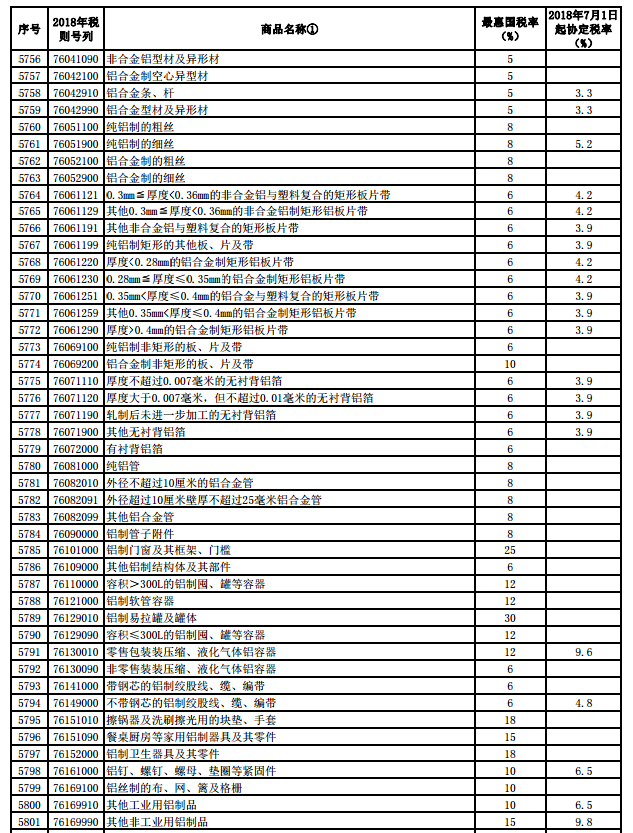 This article keywords:

Scroll

Online
consultation